"Founding of the company"
Todan Co., Ltd. was founded in 1903 as a hand fan manufacturing company. During the winter, low season for fans, we sold calendars to stay in business.
Over time, fan sales were overtaken by calendars and the company grew to become a specialist in calendars. We created a design division to produce high quality and unique designs and throughout the years we have released calendars full of original designs and features.
In 1960, our Alps calendar was a huge hit and put Todan on the map and established itself as a respected calendar company. In the 60s and 70s, the distinctive designs of Todan led to success in the market and premium products, such as light-capturing, semi-transparent film calendars and fine art calendars, brought further recognition.
"Progressive product ideas"
In the 80s and 90s, we continued releasing a stream of big hits, including licensed products of famous brands such as PLAYBOY and popular TV programs and cartoon characters, "Luck" and "Fortune" calendars in our fengshui series, and our modern Japanese-style "Edo Chiyogami (Isetatsu)".
Entering the 21st century, we were the first to introduce Universal Design (UD) products to the calendar industry. We have successfully taken the lead in the industry with products incorporating design and practicability, such as our "Gudlook" calendars and Top-to-bottom 3-Month calendars (patent pending).
"The changing mission of calendars"
In recent years, in addition to our main business of B2B calendar sales, we have embarked on a new endeavor to design and sell B2C calendars with playful, exciting, calming, and heartwarming themes. We aim to produce "calendars that bring joy to all."
"Industry-leading manufacturing system"
In the area of manufacturing, Todan is also a leader, with our industry-recognized Ibaraki Factory, the largest dedicated calendar factory in the Orient, built in 1981. The factory utilizes a unified system consisting of printing, binding, imprinting, and shipping departments, and a spacious storage area. Todan is also the first in the calendar industry to fully computerize the management of product order to delivery, guaranteeing swift and timely manufacturing of products and accurate management of fulfilment,while we continue to proactively enhance product quality and reduce costs.
In 2003,in celebration of the 100th anniversary since the founding of our company, we established the Todan Logistics Center (TLC) to improve the efficiency of our logistics, a key for success in the 21st century. In the same year, Todan USA, Inc. was founded in the state of California, to continue our steady progress with calendar sales and company awareness in the United States.
The philosophy of Todan Company is "Lead a rich life, have a rich heart." We strive to create products which make the lives and hearts of our clients rich and varied and through this philosophy we hope to continue to contribute to the growth of culture in our society.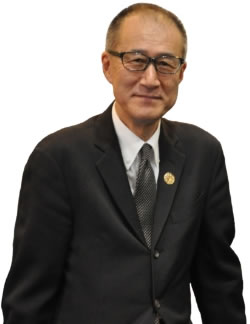 Kunio Kowaguchi
President & CEO
Todan Co., Ltd.
Special Director, Japan Calendar Publishers Association
Director, Japan Association for Calendars and Culture Promotion